CLEVELAND, Ohio — The Browns travel to Arlington on Sunday for the big stage against the Cowboys. The game will feature two prominent NFL franchises with deep traditions and marks one of the few times the Browns enter such a matchup with a better record. The Browns will try to keep their momentum rolling following a 34-20 win in over Washington and ride in 2-1 and above .500 for the first time since 2014.
For Dallas, they started the season 0-1 in the debut of the new stadium in Los Angeles. Then followed it with an improbable 20 point comeback against Atlanta but too many defensive struggles cost them in a 38-31 loss in Seattle on Sunday. Dallas entered this season with the hopes of showing drastic improvement after a miserable close to 2019 that saw Jason Garrett fired. Mike McCarthy was selected to take over and with his arrival are high expectations. With the Cowboys knowing the threat of 1-3 on the horizon and the Browns knowing a difficult two weeks lie ahead with the Colts and Steelers, both teams know this game is important to their season's first-quarter success.
How to Watch
Date: Sunday, October 4th
Game Time: 1:00 ET
Venue: AT&T Stadium — Arlington, Texas
Network: FOX
Depth Charts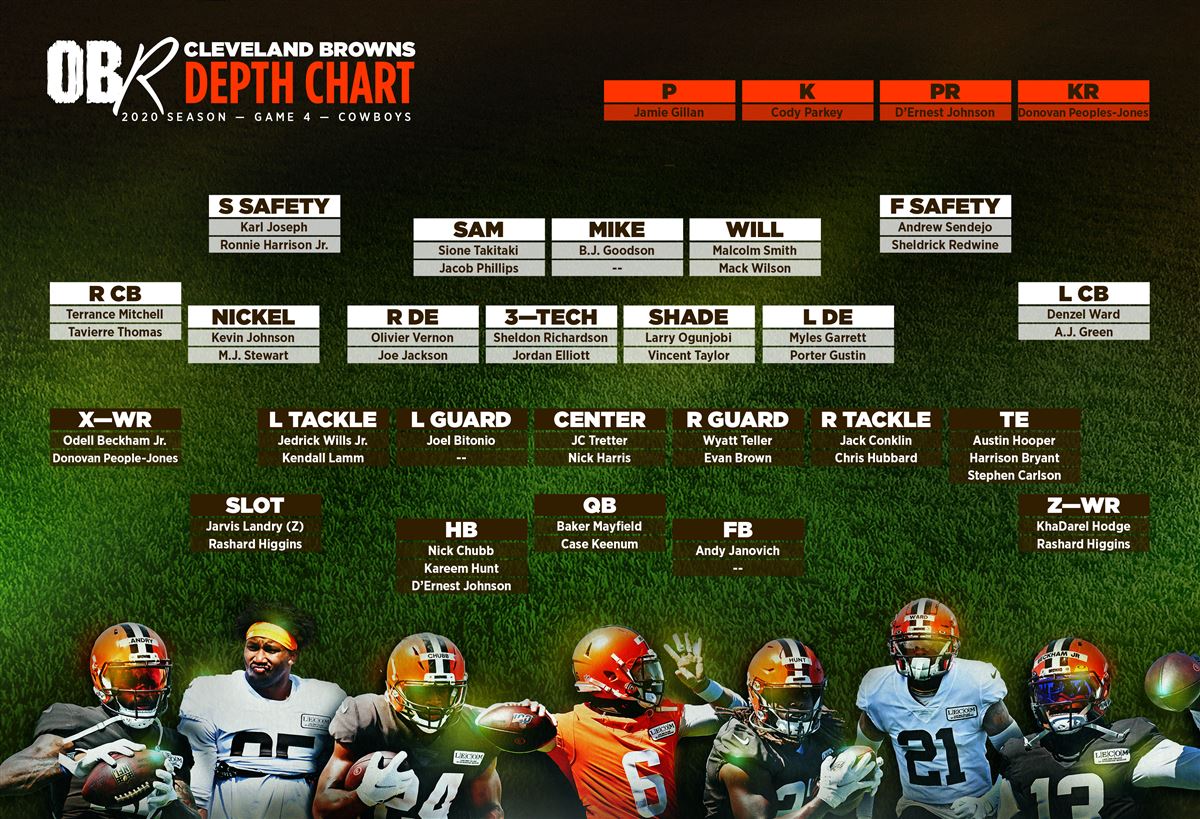 Minor tweaks for the Browns as Joe Jackson steps in for Adrian Clayborn in the EDGE rotation. Kevin Johnson returns to start in the slot if Denzel Ward gives it a go. Returner positions will have new faces as well with D'Ernest Johnson set to return punts and Donovan Peoples-Jones might get the nod returning kicks.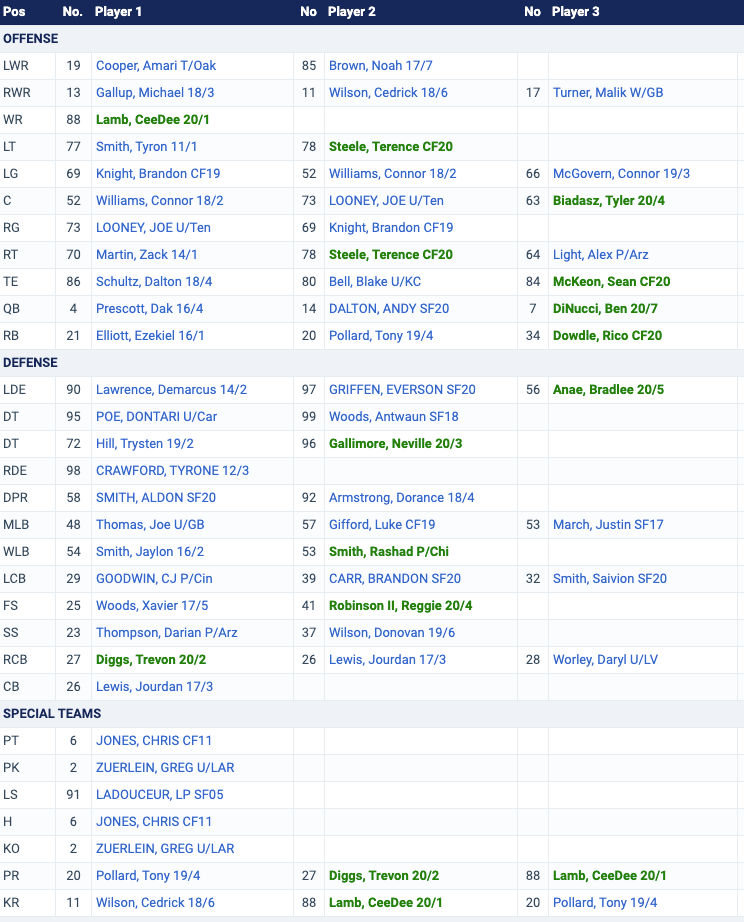 The biggest changes for the Cowboys involve the offensive line where Travis Frederick's retirement and the injury to La'el Collins has forced new faces into the Cowboys once-dominant offensive line. Tyron Smith is set to return at left tackle which is much needed for the struggling group.
There will reportedly be some shuffling due to those returns.
Projected Cowboys starting offensive line tomorrow against the Browns:

LT: Tyron Smith
LG: Connor Williams
C: Joe Looney
RG: Zack Martin
RT: Terence Steele

Brandon Knight also has a chance to play some RT depending on how things go https://t.co/1ArlxOkvvU


— Jon Machota (@jonmachota) October 3, 2020
Injury Report
The injury report for the Browns is quite lengthy:
QUESTIONABLE: Joel Bitonio (back), Kareem Hunt (groin), Nick Harris (illness), Jacob Phillips (knee), Olivier Vernon (abdomen), Denzel Ward (groin) OUT: Greedy Williams (shoulder), Adrian Clayborn (hip), Tae Davis (elbow)
Bitonio, Hunt and Ward did not participate in Wednesday's practice but saw a gradual return to action throughout the week. Bitonio and Ward were limited participants Thursday and Friday while Hunt returned Friday.
Vernon and Phillips have missed the past two games with their injuries and a full return would be a welcome sight. They were limited participants throughout the week. Harris did not participate Friday because of an illness.
The Cowboys have struggled with injuries through the first three weeks of the regular season. Names like linebacker Leighton Vander Esch, cornerback Chidobe Awuzie, right tackle La'el Collins, tight end Blake Jarwin, and linebacker Sean Lee all currently reside on the Injured Reserve list.
Defensive end DeMarcus Lawrence made the report due to a lingering knee injury. After not practicing at all on Wednesday or Thursday, Lawrence was listed as limited during Friday's regeneration day. According to the report, Tank is set to play on Sunday.
Two other Cowboys were listed as questionable though. Starting left tackle Tyron Smith is dealing with a neck injury (stingers) and did not practice on Wednesday. Smith was able to be a limited participant for the rest of the week.
The other starter designated as questionable for the team's matchup against the Browns is rookie cornerback Trevon Diggs. The second-round selection is dealing with both a shoulder and a knee injury. After being a full participant during Wednesday's practice, Diggs was limited the rest of the week.
Gambling Notes
Per CBS: "Dallas is tied for first with Washington at 1-2, while Cleveland is tied with Baltimore for second in the AFC North at 2-1. The Browns have won two in a row, while the Cowboys are coming off a last-second loss at Seattle. Dallas is 1-0 on its home field.
Kickoff from the AT&T Stadium is set for 1 p.m. ET. Dallas is a 4.5-point favorite in the latest Cowboys vs. Browns odds from William Hill. The over-under for total points scored is set at 56. Before making any Browns vs. Cowboys picks, check out the NFL predictions from the SportsLine Projection Model.
Despite that, Dallas is not a lock to cover the Browns vs. Cowboys spread. That's because Cleveland has been putting up points the last two weeks with a 35-30 win over Cincinnati and a 34-20 victory over Washington. Quarterback Baker Mayfield completed 16 of 23 passes for 156 yards and two touchdowns for a season-high 117.3 rating last week. He is looking for his third game in a row with two or more touchdown passes and a 110-plus rating.
Also looking for another big game is running back Nick Chubb, who rushed for 108 yards and two TDs against Washington. In his last three games against NFC opponents, Chubb has 397 yards from scrimmage and five rushing touchdowns. Chubb is tied for the NFL lead with four rushing touchdowns and is fourth with 292 rushing yards."
Browns Offensive Keys
For the Browns offense, it will be a key week for handling the clock and putting points on the board. The Cowboys secondary is in the process of being rebuilt and as a whole, they have allowed a severely high number of plays totaling 20+ yards. They run a traditional 4-3 and will challenge receivers on the perimeter. Leighton Vander Esch is missing from the linebacker group but Jaylon Smith is still there and performing well enough.
But there are big plays to be had with the slow start of the Cowboys defensive line. They have allowed massive cutback lanes in zone rush schemes and their interior duo of Trysten Hill and Dontari Poe lack the pop Washington had last week. Getting both zone and gap schemes moving will be crucial for the Browns offense.
The secondary's leaky nature has led to big days for Russell Wilson, Matt Ryan, and Jared Goff to kick off 2020. Trevon Diggs is especially susceptible to double moves so far on tape.
The biggest disruptive force for the Cowboys has been Aldon Smith. His four sacks, six quarterback hits, and three tackles for loss lead the Cowboys this year. It's been a long road back but Smith is as disruptive as you might remember. Keeping him in check will be vital.
There will be opportunities all over for Kevin Stefanski's offense on Sunday. Overall as a defense, Dallas is allowing 404.7 yards per game, which is 26th in the NFL. They also give up 32.3 points per game, which is the 4th highest amount in the NFL. Stick to the gameplan you develop and trust your built-in deception will create opportunities in both phases. Also, use a few of these schemes the OBR mocked up earlier this week for some big plays.
Browns Defensive Keys
This is where things get particularly challenging. The Cowboys are lighting up the scoreboard on offense and their skill position talent is some of the league's best. For those unaware, personnel packages refer to the type of skill position players in on a play. In the case of 11 personnel, that's three wide receivers, one running back, and one tight end. According to Sharp Football Stats, Dallas uses the highest percentage of 11 personnel in the NFL, using that on 78% of their plays from scrimmage (the Browns, in comparison, have just used it on 39% of their play calls).
Outside receivers Amari Cooper and Michael Gallup are among the best route runners in football, and the added attention to them has allowed Lamb to flash his ability after the catch early on. Regardless of who is getting targeted, the Browns defense could be in for a long, grueling day, as it's expected Dallas puts easy points on them.
Gallup has been feating on deep balls in 2020 as his yards per catch are above 20 yards per and is consistently winning deep routes.
Cooper continues to dominate the intermediate and shallow levels of the field with precise route running and consistent hands thus far. Ward and Mitchell will have their hands full.
Ceedee Lamb is also a problem in the slot. He has racked up 16 catches on 22 targets for 230 yards and his propensity to create separation presents a big challenge for both Kevin Johnson and Tavierre Thomas. They get the ball to him in a variety of ways.
A key aspect of the Cowboys' use of 11 personnel comes from their usage of play action. One might say play action is a high point for them, as Prescott has thrown for 420 yards off of it, the fourth-highest total through three weeks of play (according to Pro Football Reference's advanced statistics).
Expect quick throws over numbers in screen games as well. This has been a method Cleveland has struggled with so far.
Getting pressure on Prescott through this offensive line's issues in recovering some stability will be key.
Three Key Matchups
Ezekiel Elliott vs Browns Rush Defense — The Browns have only allowed 282 rushing yards in 2020, good for third in the NFL. They have been able to stop some talented ball-carriers and schemes so far but Elliot presented a unique challenge. The mixture of speed and elusiveness rivals their own teammate and if Elliot is able to get loose often it will really hamper the ability to stop the passing game that is so dangerous for Dallas. Simply put, stopping Elliot is the most important battle for the Browns to have a chance on defense today.
CeeDee Lamb vs Kevin Johnson — For the Browns, their nickel corner role has been a struggle in 2020. They give up the third most slot yards in the league so far and Lamb is the best receiver the group will have faced. Johnson is now likely to bump back inside full-time and his first challenge will be a tough one with the Oklahoma rookie. If Lamb gets loose too often it will force double-teams and a shift out their comfortable coverages.
Jedrick Wills Jr. vs Aldon Smith — The rookie has played well so far in 2020 but Smith is back to his dangerous play level and he will be tough to handle. With DeMarcus Lawrence dealing with injuries and Everson Griffin playing poorly, Smith is the only consistent edge rusher the Cowboys have had through three games. Smith plays with deceptive moves, heavy hands, and a bevy of experience that could make for a tough day for Wills. If the rookie can't keep Smith in check it will force chip help and limit the Browns creativity. Wills will be tested early and often.
For more on the Cowboys ahead of today's 1p kickoff, check out the OBR Film Breakdown podcast wherein the latest edition has Dallas Morning News' John Owning who provided a thorough breakdown of the opponent the Browns travel to face.